the long weekend
When you've seen and done almost everything normal Singapore has to offer you, what else can you do but to do paranormal things. Friday was a fun day. Saturday was an even funner day. Monday was one of the most unplanned, most spontaneous day of my life that turned out to be a really fun day.

F

r

i

d

a

y



The boys suggested that we'd go ghost hunting. As weird as it may sound, it's actually quite a normal pastime for people on this tiny island we live in, who really have nothing else better to do at night (or are on a budget and are unable to go hit the clubs). I decided on a catchy acronym for this activity. "GST" which stands for "Ghost Safari Tour" or "Ghost Searching Trail" - it goes both ways. 'Ghost Safari Tour' is when we sit in the car traveling down dark and spooky roads hoping to see something out there.' Ghost Searching Trail' is where the torchlight come in handy and we walk on a trail in search for something paranormal.

So it was just me and the boys (Dannie, Harry, Wan, Fi and Sharul) on Friday's GST. We decided to explore the North-Western part of Singapore. Only then did I realize we had so much unused land. The Lim Chu Kang-Kranji area is massive! So much land untouched. Anyways, we were on the safari tour until we reached Kranji Reservoir Park. We headed to this playground, which was by the straits of Johore. We had an awesome view of the colorful city of Johore Bahru just ahead of us across the waters. A sign that read "Beware of Crocodiles" stood nearby. I started thinking about Steve Irwin and how he is so dead now and how he could have been here to discover our urban crocodiles and was interrupted by each of the guys saying almost the exact same things like "Shit! Did u see that?" and "Oh shit, let's not sit here…" and "Shit, I cant believe I saw that!" and well, we could only guess what they were referring to and the more they spoke of "HER" (and when I mean 'HER' I mean "Miss Oh so ugly lady in white with long black hair whose dead but the coolest part is she can still haunt us" her) the harder I thought of the crocodiles and how I really did not want to see "HER" at all. And of course the guys wanted to get the hell out of there immediately. So I came to this conclusion that SHE was teasing the boys sparing me of her ugly sight.

And then we walked up to Kranji Dam for a snack and a smoke or two and headed back to civilization aka the EAST side of Singapore and drove up to the Changi Reclaimed Beach and had a breath of fresh air with another stick or two and ended the night with a good supper with more ghost stories contributed by Mr. Ronnie, the nice Bangladeshi waiter at Simpang.



S

a

t

u

r

d

a

y

It was D-Day to execute the lovely Miss Kin-Kinnie-King Kong's surprise birthday party. Got up so late and had to rush like a madwoman all over. I was like a programmed robot, which is the way I work best when there's lack of time (which is like ALL the time for me as I'm always late, never early):

Wake up-Eat Something-Smoke a Stick-Call/Wake Everybody Up-Get Ready- Check Weather Forecast - Plan Fastest Route - Drive (Still calling people up while driving) – Go Bedok South collect item – Observe Weather - Go Simei collect item – Observe Weather - Go Elias Green collect item – Go back down to Pasir Ris collect Fi – Go further down to Eunos collect Wiwi – Observe Weather – Head up to Carrefour at Plaza Singapura and buy tent, snacks and drinks - Call Kin and pretend that we have other plans for the day - Meet the best friend, Denise - Buy cake at Secret Recipe – Gather all – Have another stick while heading to car – Head to East Coast – Find awesome spot – Observe a huge ass malay family nearby who build a Marquee over a Bbq pit and hang those blinking lights and set up tents all around the pit ala 'Barracks surrounding the Command Post' - Call Kin and speak to Sharul and update him - Set up tent and placed mats and laptops and speakers (for movie screening 'Lucky Number Slevin' and music for ambience) – Blow balloons – Call Kin again and pick her and sharul up from the other end of East Coast– Walk Kin and Sharul to the spot and execute birthday surprise!!!

I love surprises and surprising others.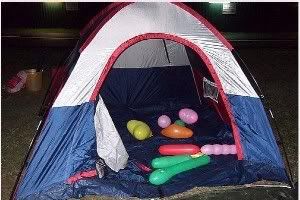 S

u

n

d

a

y



It was just me and dannie spending some quality time together.



M

o

n

d

a

y



Started the day at noon. Went to the doctors. No points for guessing why. Collected car from workshop (of all people to crash into my parked car while reversing into a slot – the big boss) and dropped the car back hope and continued to drive the Camry (bigger car with bigger space for my big group of friends – Haha.) Farrah's back from Los Angeles so we picked her up. Time then was 5pm sharp. Then Dannie decided to pick Kin up from work (cos he wanted to check out the prisoners cos Kin works for the Prison) at 6pm and then we headed up to East Coast Lagoon Food Centre for a Seafood Feast (cos whenever Farrah's back she goes on a local food binge and drags us in it all the time). Almost 8pm, Wan and Harry decided to join us at the carpark and we were wondering what to do for the rest of the night. It was close to 8.30pm when we decided to drop by my place and grab some snacks and torchlights for some adventure which was not decided then yet. So we did that and the way to the North-East direction, Farrah mentioned about a garden maze in Pasir Ris and everyone suddenly lit up almost immediately shouted "Yeah! Let's go!" in agreement. So we headed to Pasir Ris. Looking for the maze itself was a maze. We finally found the maze and finally after getting on track and almost reaching to the middle, our path was blocked by this gigantic spider web and a spider ala 'the spider that build a web at the entrance of the cave in which prophet Muhammad was hiding from the enemies' (yes, us crazy people could actually think so deeply at a time like that) so we decided not to go further and turned back.

Later we had a race to the car. 3 teams. Rules: No running and no walking on the grass. Me and Dannie won the race followed by Harry and Farrah and later, Kin and Wan.
We then drove up to Seletar and discovered the Seletar Camp and the Seletar Airport. Then we started daydreaming of all of us staying together in a huge bungalow at 'The Oval'.

Soon after that, we headed up North to Woodlands to send Kin home then headed back to the East to drop Wan and Harry off as they had to work early the next day. That concludes the first half of the night.



T

u

e

s

d

a

y

Morning (12.15am)

We decided to give Alwiyah a call. She works till 1am so we picked her up from work at the IMF zone. Where do you go in Singapore at 1am in the morning where you can shop til you drop and see lot of interesting things? There's no other place but Mustafa Centre! So that's where we spent the next 2 hours – Buying groceries and snacks for home/office, browsing through dvds, cds and vcds, looking at cheap electronic equipments and other household peripherals. Mustafa rocks basically. That dude's brilliant. They even have the best Milo Ice in the whole world there. Dannie was so overwhelmed by the Indianess of the place that suddenly, he craved for Dosai. He refused to eat ANYTHING else but Dosai for the night. It was 3.30am. We asked around for places that may sell Dosai at that hour and nobody could think of a place. I mean it's Serangoon aka 'Little India' for god's sake and not a single store was selling Dosai at that hour. Of course when a man craves for something, it has to be satisfied so Dannie insisted on going ALL the way to Jln Kayu (which is a stone's throw away from Seletar – where we were earlier that night). The best part of the story has yet to come.

So we were on the road to Jln Kayu. Yio Chu Kang Road to be exact. Suddenly, our surrounding looked like it was out of a scene of a horror movie – the whole stretch of road was misty like never before and not a single vehicle or person in sight. I was getting excited because the last time I actually saw mist like that was back in Melbourne so I wound down the window and stuck my hand out going "Waaaaaaahhh… So coooold the air!!!! So niceeeeee….. Wooooohoooooo…." Farrah and Alwiyah followed almost immediately. Then suddenly, Dannie said in his most serious voice, "Put your hands in the car!!" "Huh?" "I said put your hands back in the car!!" "Shit! What?" First thought in my head was the mist was actually some kind of poison chemicals. 'Really is that possible in Singapore? How does Dannie know?' Then suddenly Dannie just exclaimed "I saw HER behind us. She went passed the car… Shit! She was looking right at us!"

Anti Climax to the max you know what I'm saying?

Best part is, when we got to Jln Kayu and ordered Dosai (cos we went through all this trouble for the Dosai), the mama guy told us as-a-matter-of-factly in the most sternest Indian-accented-with-head-shaking voice, "We 45 years already NEVER sell Dosai. 45 years already never sell. Our speciality is Prata. You want Dosai you go Serangoon or Ang Mo Kio have."
..............
A

Di

g

res

sio

n
Anyways, check this out: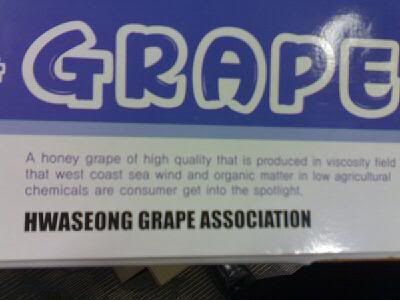 READS: A honey grape of high quality that is produced in viscosity field that west coast sea wind and organic matter in low agricultural chemicals are consumer get into the spotlight.
The above was taken from this Korean Grapes box I found at the office. I don't understand why the Koreans (much like the Japanese) try to use big words and make themselves look oh-so-stupid! Either that or really, my england no good enough.