The Haze Report
So the haze is back. Back since it was last reported in 1998. It's terrible especially for people who are asthmatic and smokers. They suffer the most, I tell you. The government should seriously start investing in huge air filters over Singapore skies to suck out all the pollution. I can already picture it. Whenever the psi is up, these "super filters" I'd like to call it, (i imagined them to look like dish-shaped spaceships) will be sent up to the skies and they will literally suck in the dusty air (perhaps disposing all the dust and dirt back to the source of the haze?) and the air will be breathably clean again in 20 minutes. Something for the Japanese to start brainstorming to invent.

Anyways, as I was driving on the 11th, 14th and 16th October (yesterday), I took the liberty to snap some photos with my handphone.


Presenting, My beautiful Singapore......
(All pictures taken before 5pm, in chornological order starting from the 11th of October to

yesterday'

s haze being the worst):
Blue skies. Smiling at me.
Nothing but blue skies, Do I see.
Bluebirds Singing a song.
Nothing but bluebirds, All day long.
Never saw the sun shining so bright,
Never saw things going so right.

Noticing the days hurrying by,
When you're in love, my how they fly.
Blue days, All of them gone.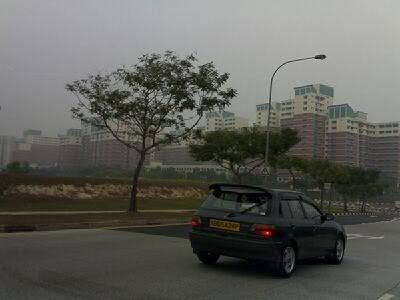 Nothing but blue skies. From now on.....
"Blue Skies" by Bing Crosby